Richard Murphy Architects pen Cambridge Science Centre build
November 12 2014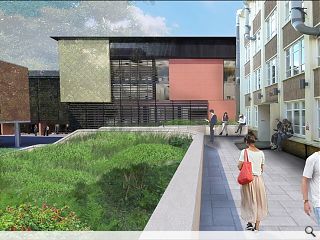 Richard Murphy Architects have revealed plans to replace two existing teaching blocks at Anglia Ruskin University with a single Science Centre, bringing together postgraduates working in the fields of computing and technology; psychology and biomedical science/forensics within a single home.
New and upgraded facilities contained within the centre include a new lecture theatre and 'super laboratory' where classes from differing disciplines can be brought together and taught within a unified space.
Built in an atrium format the new building will connect with a neighbouring Science faculty building on five levels, flanked by areas of new hard landscaping.
In a statement Richard Murphy Architects wrote: "The design places a domestically scaled elevation onto the Broad Street frontage. Although three storeys high, half a storey is sunk below pavement level, the eaves level of the building is deliberately aligned with the adjacent dwellings and the fenestration is domestic in size. The modelling of the elevation has been indented to reflect the bay windows, a characteristic of the Conservation Area.
"The cross section of the building has been manipulated behind this façade to grow up to the highest part of the building, which is five staff storeys and four teaching storeys. This section (fronting Broad Street) is designed so that the eaves largely conceal the presence of the bulk of the building behind from street level. This is further minimised by a cascade of roof and strip windows."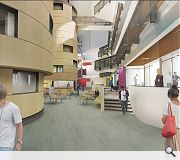 Large windows are wrapped around corner elevations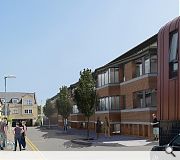 The Broad Street frontage is domestically scaled
Back to November 2014