Maggie's Oxford marks cancer charities 18th centre in 18 years
October 14 2014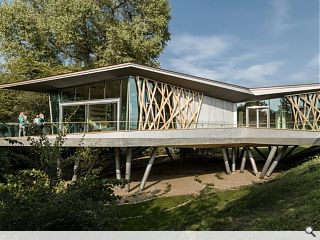 The second Maggie's Centre to open its doors in as many months has been unveiled in Oxford, following hot on the heels of
Reiach & Hall's work on Maggie's Lanarkshire
.
Built in the grounds of The Churchill Hospital the Patricia Thompson Building has been designed by Wilkinson Eyre in partnership with Oxford University Hospitals NHS Trust to enhance cancer care and support.
Based on a treehouse the on stilts design is intended to enhance the relationship between building and landscape and is centred on an open plan kitchen. The building has been named after the mother of Mike Thompson, principal donor for the build.
Laura Lee, Maggie's chief executive said: "To watch a Centre come in to being is an incredible journey, one I have been privileged to share with every Maggie's Centre built so far, but nothing compares to seeing the Centre filled with people benefiting from the support we offer."
Maggie's Oxford is the 18th cancer care centre to be opened by the charity in its 18 years of operation; including an online centre and a base in Hong Kong.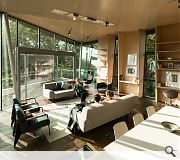 5,000 people are diagnosed with cancer in Oxford every year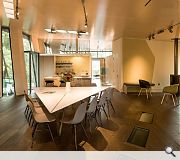 In common with other Maggo's Centres Oxford is domestically scaled and centred on its kitchen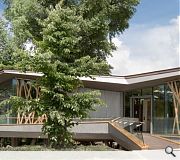 Wilkinson Eyre have elevated Maggie's to new heights with their design
Back to October 2014