Fountainbridge apart-hotel goes in for planning
September 30 2014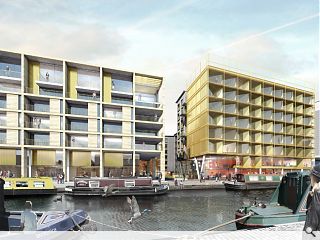 Apart-hotel chain Urban Villa has
submitted plans for a 176 room canalside hotel
designed by Grzywinski + Pons Architects and Michael Laird to slot into a wider master plan for the Fountainbridge area of Edinburgh.
The champagne cladding and grey brick build is defined by faceted balcony spaces along its southern façade to maximise light and will cut a new pedestrian route from Fountainbridge to the Union canal. Al fresco dining will be offered alongside the latter with a series of loggias offering onward connections.
In their design statement Grzywinski + Pons wrote: "With considerable frontage on the canal, we wanted the structure to define and animate the waterway's edge while encouraging access to it from points north. The predominantly glazed, double height lobby at grade protects visual access to the water's edge even while occupying the area with convivial use both inside and outside the building.
"In the cooler months when sunlight is at a premium the low declination of the sun allows penetration deep into the guest rooms while the inverse is true on long summer days."
A fine stainless steel mesh is positioned over the façade to serve as fall protection whilst maintaining views.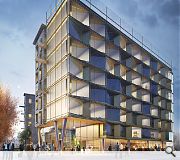 A fine steel mesh will be wrapped over balconies which the architects claim will be near invisible from some angles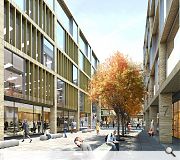 A series of courtyard spaces will open up new pedestrian connections
Back to September 2014