Scotland +Venice 2014 programme announced
September 26 2014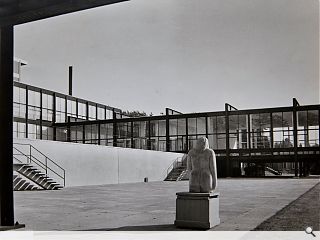 Architects attending the 2014 Venice Architecture Biennale, the world's biggest architecture festival, are to reflect on such diverse themes as social housing, places of worship, a football stadium and a Highland dam for Scotland + Venice.
The common thread uniting these disparate strands for Past + Future is Modernity,
the theme set by Biennale director Rem Koolhaas
, and will be chewed over during a month long residency of the British pavilion from today.
Organised by Reiach & Hall this will see a series of specially printed newspapers disseminated by four architect-led teams, covering topics such as Glasgow's historic inner city,
Gray's School of Art in Aberdeen
(featured in next week's Urban Realm magazine) and a Kirkcaldy crematorium.
Other topics up for discussion include a series of recollections from author Irvine Welsh and an interview with the late Professor Andy MacMillan. This material will provide fodder for invited speakers to discuss architecture in Scotland, the fruits of which will return with the team to form the basis of an exhibition and events programme at The Lighthouse.
Neil Gillespie, design director at Reiach and Hall, said: "Scotland's presence in Venice enables Scottish based architects and academics to critically engage directly with an international architectural audience. The Scotland + Venice 2014 Biennale itself has afforded a short period of reflection on the roots of a Scottish Modernism, 1950 -1970, that arguably is still valid today, the questions asked then remain to be answered today."
Reiach & Hall have been given a budget of £68k by the Scottish government to deliver the project.

Photograph by Norma Shewan
Back to September 2014