Councillors approve contentious Craighouse development
September 4 2014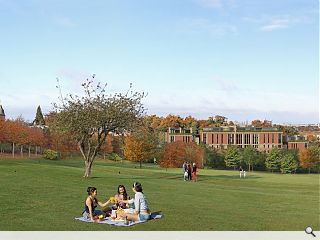 Councillors in Edinburgh have given the thumbs up to a development of 145 homes within and around the former
Craighouse campus of Edinburgh Napier University
.
This will see listed buildings restored and refurbished together with the introduction of new build elements, culminating a planning process which first began back in 2011.
The £80m development was designed by Oberlanders on behalf The Craighouse Partnership - a consortium comprising Mountgrange, Sundial Properties and Napier University.
Councillor Ian Perry, planning convener, said: "This has been a very difficult decision for the committee to make and I appreciate that not everyone will be happy.
"The Committee's main concern was to protect the listed buildings from further deterioration and I believe that this was the best outcome for the site."
Local activists, under the banner of the Friends of Craighouse, had complained that the plans were 'excessive and ugly,' adding that the application held the dubious honour of generating the largest number of objections ever recorded for a single application in Edinburgh.
A total of
1,025 public comments
were received in relation to the proposal.
Back to September 2014