Galloway Dark Sky Park to host festival of sound and light
September 8 2014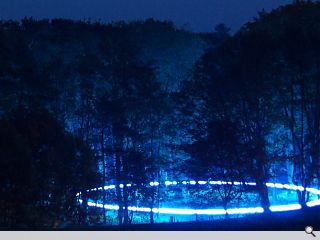 Galloway Dark Sky Park is to play host to a 24hr festival of music, art and light, drawing together a 100ft neon light installation, international performers and even its own radio station for one day only.
Taking place over the weekend of 27 and 28 of September Sanctuary will transform the remote spot with a lively production of experimental sound and new music, all of which will be destroyed when the festival concludes.
The event will take place at Murrays Monument and is a collaboration between artists Robbie Coleman, Jo Hodges and Stuart Mclean.
Jan Hogarth, of arts production company Wide Open, said: "This is one of the most exciting art collaborations to happen in the landscape of Scotland this year"
"There will be amazing music that no one else will ever hear, most of it is composed for this event, a dramatic light installation and the chance to enter the world of the paranormal – all taking place in a remote forest in the Dark Sky Park in Galloway."
Coleman added: "The Dark Sky Park is an incredible place to spend the night, looking at the stars and listening to music that's never been heard before. It's an exciting place to create experimental work."
Back to September 2014