GSA to host Mackintosh rebuild symposia
September 3 2014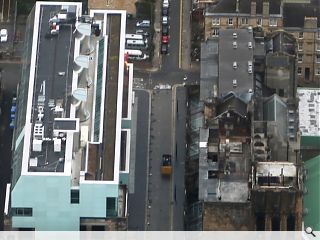 The Glasgow School of Art has announced that it will host two symposia exploring the questions and issues surrounding the
rebuilding of the Mackintosh Library
to inform its construction and restoration plans.
This will kick off during the Scotland + Venice programme presented by Reiach & Hall as part of a residency at the UK Pavilion during the 2014 Venice Architecture Bienale throughout October, presaging a spring symposium to be held in Glasgow.
Scotland + Venice will explore the modernist heritage of Scotland following the recent passing away of professor Andy MacMillan, surviving partner of Gillespie Kidd & Coia and former Head of the Mackintosh School of Architecture.
Professor Christopher Platt, head of the Mackintosh School of Architecture, said: "What should the plans be for bringing the Mackintosh Building into full use once more and how should we approach the particular issue of the Macintosh Library? These are highly complex questions and by necessity any discussion must involve contributions from many different people and organisations from across the world.
"We have decided to focus on the topic of the Mackintosh Library specifically as this is the most delicate and culturally and intellectually significant aspect of the entire post-fire work."
Back to September 2014