RMJM designs athletes' village for 2014 Commonwealth
|

Send to friend

October 5 2007

In early November we will find out if Glasgow has won the bid to host the 2014 Commonwealth Games. RMJM has revealed plans for the design of the 2014 Commonwealth Games Athlete's village. In 2005 Glasgow City Council commissioned RMJM to produce a master plan for the development.


The masterplan site covers approximately 40 hectares and is located in Dalmarnock in the East End of the City. The scheme aims to tackle the regeneration of one of the city's most deprived areas, to create a games village accommodating over 7,000 athletes in more than 1,000 new permanent housing units. Facilities such as landscaped areas, an international zone, a transport hub and a hotel also form part of the village.

RMJM is designing with the long term regeneration in mind. Once the games are over additional units, community buildings, transport connections and good quality pedestrian routes will be developed.

The Village has been designed to meet the specific needs of the Games and will consist of a secure residential zone with a number of permanent dwellings that meet sustainability objectives, an international zone with a range of temporary buildings that include a shopping complex, entertainment complex, conference rooms, media facilities and a security management centre and support services which are required by athletes/team officials, including restaurants, team offices, service and travel centres, and gym and fitness facilities.

The defining features of the design concept are a strong relationship to the Clyde and a high proportion of green space. The new neighbourhood will be divided into 6-8 themed areas based on Scottish glens, clearly signposted and colour coded to aid orientation through the site. The village will be car free with a looped bus service around the Village using electric vehicles and will also have its own extensive transport mall providing regular and frequent bus access to all of the Games venues.

Glasgow

is up against the Nigerian capital

Abuja

, and

Halifax

.

Nova Scotia

in the competition to host the 2014 games. The winner will be announced on 7 November.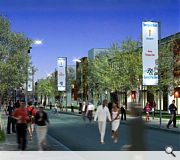 Back to October 2007