ARM submit Arden infill housing proposal
August 21 2014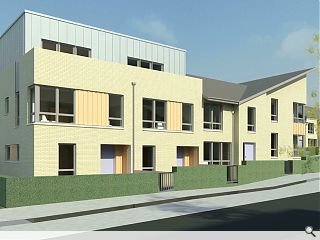 ARM Architects have
submitted plans for 48 homes in Arden, Glasgow
, on behalf of Glen Oaks Housing Association, incorporating a range of flats and town houses in a mixture of terraced and detached forms.
Situated on the site of the former St Louise primary school in the heart of the post-war housing estate the scheme seeks to address recently upgraded four storey tenement stock.
Faced in brick with elements of zinc and timber the scheme has just one point of access, necessitating a cul-de-sac solution, with housing fronting onto a central area of landscaping.
In their design statement ARM wrote: "The 3 storey houses are all arranged on the short access road at the entrance to the site. We have designed these houses to have balcony spaces at the top floor and have proposed a shallow pitch roof behind a parapet to reduce the 'canyon' effect at the entrance to the development and visually reduce the height of these units to relate better to the 2 storey units."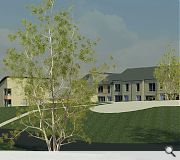 Detailed design of the central landscaped space will evolve over the planning process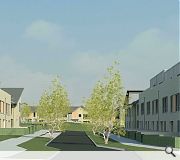 Terraced housing has been specified to instill a sense of enclosure
Back to August 2014