Garnock 'groundscraper' schools campus wins go-ahead
August 1 2014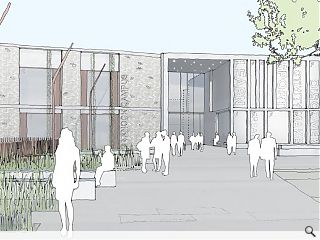 North Ayrshire Council has given the go-ahead to a
£40m schools campus
which will merge the existing Garnock Academy and Primary into one new building together with community leisure facilities.
Occupying farmland adjacent to the village train station the building has been conceived as a low slung 'groundscraper' within its landscape, an approach JM Architects adopted as a means to blend with the site topography.
This sees the constituent parts of the campus connected via an internal landscape of 'slow stairs', amphitheatre spaces for informal teaching and gathering.
The building plan is described as a 'four-stern star' with the wings housing teaching and community spaces and the body containing a café, library and performance space.
In their design statement JM say: "…inspired by the sweeping contours of the Garnock landscape four wings stretch to create a building gently resting at the top of the plateau with a large, central, social atrium at its heart."
The new school buildings are due to open toward the end of 2016.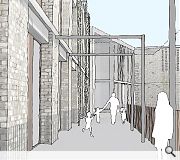 Facades will be finished in soft-toned, highly textural brickwork, sensitively detailed, with large-format precast concrete elements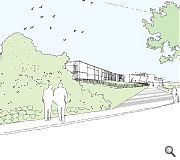 The main entrance leads directly to a top lit 'town square'
Back to August 2014