Pop-up soft drink store leaves neighbours fizzing
July 16 2014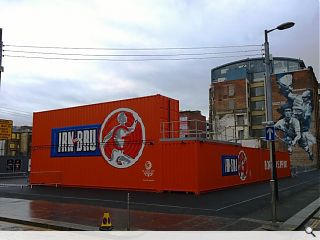 A pop up store built entirely from disused shipping containers has emerged in Glasgow's Merchant City to slake the thirst of Commonwealth Games visitors.
Incorporating an area of outside seating and a Barr will store will host its own big screen to relay all the Games action to soft drinkers.
Not everyone has been impressed by the build however with Neil Smith, director of neighbouring jewellery business Orro, labelling the scheme "…
wholly inappropriate and garish
." Adding: "The bright orange colour of the shipping containers with the addition of branding promoting a high sugar soft drink will look tacky and out of place in the historic Merchant City within the Central Conservation Area."
The 40ft long Bru Store has been designed by Lion Containers and the Leith Agency and is situated on the site of a planned
mixed use scheme by Richard Murphy
and will remain in-situ until 10 August.
Back to July 2014