Aedas split sees UK office rebranded as AHR
July 7 2014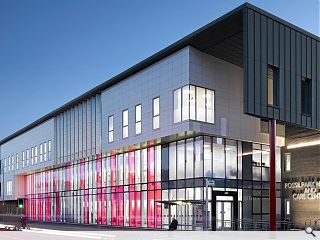 Global architecture practice Aedas has announced that it has split its operations in two in order to grow the businesses in separate directions, whilst maintaining existing collaborations.
This will see all eight UK offices being rebranded as AHR, alongside offices in Russia, Poland and Kazakhstan, whilst the remainder of the global business continues to operate under the Aedas brand.
AHR will continue to operate from existing offices in London, Manchester, Huddersfield, Leeds, Birmingham, Bristol, Shrewsbury and Glasgow, with bosses stressing continuity for both clients and all 450 staff as a result of the switch.
Keith Griffiths, chairman of Aedas, said: "This move reinforces Aedas primary aim to provide international design services to the major world cities through our network of 13 offices and 1400 staff."
Brian Johnson, chairman of the new UK practice, said: "We are very excited to announce the launch of the AHR brand in the UK and across our international offices. AHR has a long-standing history of producing award-winning designs, something which we will continue into the future.
"As well as being a truly global business, we are proud of our regional UK heritage and will continue to offer the excellent levels of services from all our offices."
The demerger comes as AHR prepare to open a new office in Dubai.
Back to July 2014