Hunt renewed for UK's best new and refurbished church
June 16 2014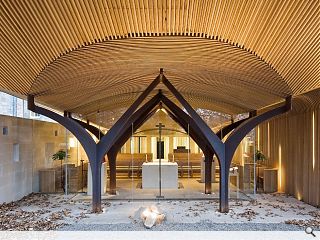 The National Churches Trust and the Ecclesiastical Architects and Surveyors Association have
renewed their search for Britain's finest new church buildings
by inviting the public to nominate their favourite examples of both new build and conservation architecture.
Two awards are designed to recognise the best in contemporary design as well as safeguarding the past.
Open to all Christian places of worship in the UK completed in the past three years the award with a
deadline for entries set on 3 October
.
Mark Pearce, president of the Ecclesiastical Architects and Surveyors Association, said: "These awards are an excellent opportunity to showcase the highest quality work being undertaken on our church buildings; new and historic. They provide exemplars for parishes, architects and surveyors alike to learn from and aspire to. "
Last year the competition was won by the Michael Dales Partnership for the new Parish Room at St Mary's Church, Hertingfordbury, Hertfordshire and Thomas Ford Partners for the conservation repairs to the Church of All Saints, Westbere, Kent.
Back to June 2014