GSA declares show must go on as degree shows get green light
June 5 2014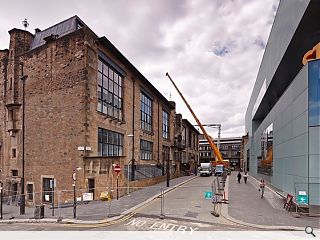 The Glasgow School of Art is to press ahead with its annual architecture and fine art degree shows this month despite the recent fire which tore through the school's historic Mackintosh Building.
The public will have their chance to survey student work from 14 -21 June with architecture students exhibiting as normal in the Bourdon Building which was unaffected by the blaze.
Professor Tom Inns, Director of The Glasgow School of Art said: "Last week's events had a significant impact on the GSA, but I am pleased to confirm that the GSA Degree Show for our Architecture and Design students will go ahead as planned. This will offer the public not only the opportunity to see work by a new generation of creative talent, but also the first chance to visit our award-winning Reid Building."
"It has been a particularly challenging time for our Fine Art students and this exhibition ensures that although they are unable to stage a Degree Show at this time they are able to join with their fellow students across the campus in our annual showcase of creativity and innovation."
The Department of Architecture at the University of Strathclyde meanwhile will stage its exhibition from 9 June to 20 June in level 3 of the James Weir Building.
Photography by Mark Chalmers.
Back to June 2014