Glasgow Academy science wing takes shape
April 18 2014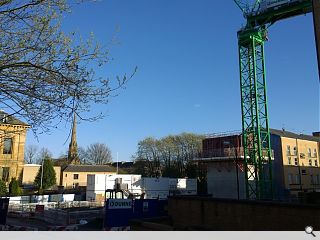 A new science & technology wing for
Glasgow Academy
is taking shape in the west end with Dunne Construction progressing the structure of the 37,000sq/ft facility.
The £10m scheme will incorporate a 175 seat auditorium alongside, labs and library which back onto a rear courtyard space.
In their
design statement
architects Page\Park say: The new building is a sophisticated example of a classical veneer to a three facade composition. Wall, rustication, pilaster, column, plinth and cornice, create the ensemble and it is to this composition the new building looks with its parallel language of arcade, plinth, bay and dormer.
"The ground floor arcade links the two entrances on Colebrooke Street with large panels of glazing offering views into the ground floor foyer. These windows align with the inset bays above and the capping dormer composition.
"The inset bays can also be read as an upper level horizontal composition unifying the facade, with the echoing expression of the corner columns forming an array - an echo of the original building."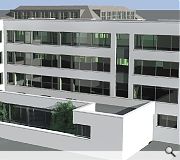 Service entry will be provided through a rear lane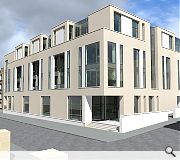 The mass of the block is broken by accentuating vertical circulation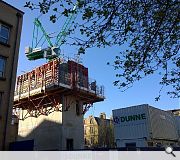 The new school is intended to fram views of the Barclay Brothers designed main building
Back to April 2014