St Columba's Hospice prepares to open its doors
April 15 2014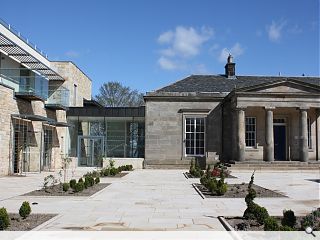 Work to put the finishing touches to a new £26m ward block for St Columba's Hospice is currently underway by Graham Construction in readiness for welcoming its first patients next month.
The split level extension provides 18 brighter and airier rooms, each opening out onto its own balcony or private courtyard, with connecting glass corridors opening up views of the grade B listed Challenger Lodge, which continues to house the hospice's administration.
Designed by Jane Darbyshire & David Kendall architects the scheme provides space for up to 30 patients the wards are surrounded by extensive areas of landscaping with views out to the Pentland hills and Firth of Forth.
In a statement the Hospice said: "Staff at St Columba's Hospice are working hard to ensure that the move back to Boswall Road to be ready to receive our first patients in May goes smoothly. They are all looking forward to having a wonderful new building which will allow the Hospice to continue to provide the highest quality of specialist palliative care to Edinburgh and the Lothians."
Built on the footprint of a 1970s extension which was no longer fit for purpose the care unit incorporates a number of features from the original building; including a stained glass window, stone fountain and three Celtic stones.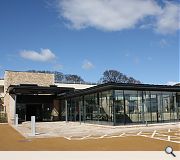 An on-site café will also provide visitors with a place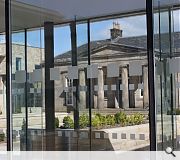 Architects have striven to respect the existing listed lodge house's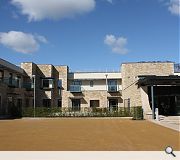 The ground floor Cedar Ward takes its name from a retained Cedar tree in the hospice grounds
Back to April 2014