Borders Council approve Coldingham Bay housing plans
February 6 2014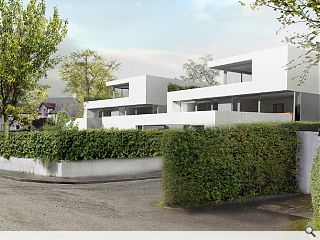 Plans to erect a new
housing development at Collingham Bay
have been given the nod by Scottish Borders Council, paving the way for construction to proceed at the popular beauty spot later this year.
Designed by Sutherland Hussey Architects the scheme involves demolition of an existing derelict nursing home to make way for the construction of two beachfront apartment blocks – alongside a separate scheme for a private three bedroom home on land opposite.
The apartment scheme would be subdivided into two separate volumes, each containing four flats apiece and each with its own dedicated front door - with the architects stressing there will be no loss of open space.
Aligned with neighbouring homes lower apartments will take advantage of a natural incline to be partially built into the hillside, with living spaces overlooking private external courtyards. Adopting a simple palette of render and glass the properties will incorporate timber terraces and sedum roofs.
Across the road a separate application for the construction of a private home will adopt a similarly contemporary design solution, again employing a flat sedum roof and rendered walls cut into the hillside to minimise its impact on the landscape.
Commenting on the proposal Sutherland Hussey state: "Though the Shieling apartments and Coldingham 2 are separate projects they are conceived as part of the same architectural family.
They both respond to the steep topography stepping back to allow for terraces, and in so doing helping to reduce the overall massing when seen from both the road and the distant views.
"They are both unapologetically contemporary in design - using east-facing glazing and terraces to maximise the wonderful views of the bay. They both use the same palette of materials - render, timber and glass - simple, direct detail¬ing that reflects aspects of the surrounding architecture without resorting to pastiche.
"We firmly believe that this proposal will prove to be an exemplar of good design in this unique and wonderful location and will prove to be a very positive addition to the existing context."
Back to February 2014