Dundee's V&A museum secures £9.4m lottery grant
January 31 2014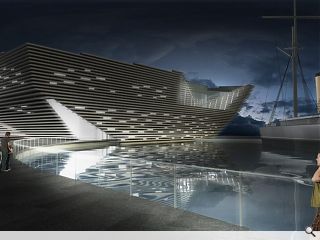 Dundee's bid to build a
waterfront outpost of the V&A Museum
has received a cash boost after winning a £9.4m grant from the Heritage Lottery Fund.
The sum will go some way toward meeting the estimated £45m bill for the first design museum to be built in the UK outside London and follows commitments from the Scottish Government to stump up £15m for the build.
Campaign work is ongoing to secure the remainder from other statutory bodies as well as private individuals, trusts and companies.
V&A at Dundee director Philip Long, said: "Scotland's achievement in design is world-class and centuries old. The development of V&A at Dundee will for the first time provide Scotland with a dedicated centre to celebrate that achievement, as well as a place to see and understand the design creativity of other countries and cultures.
"I'm especially excited by the way in which V&A at Dundee will work with communities, designers and businesses nationwide, taking inspiration from our heritage to inspire new creativity and enterprise. We are now looking forward to being on site and getting on with our pre-opening programme across the country."
Work to demolish the Olympia swimming pool is currently underway, allowing construction to begin in earnest this summer for completion by late 2016.
Back to January 2014