Portlethen social housing complex completes
November 12 2013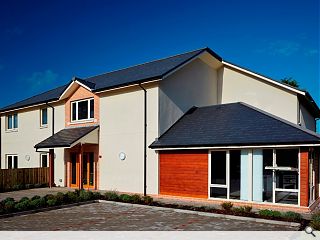 A £1.3m social housing complex for adults with learning difficulties has opened its doors at Portlethen, Aberdeenshire.
Designed by Space Solutions on behalf of Cornerstone Angus Court constitutes six purpose built flats for people with disabilities which enables their occupants to live more independently.
The building features a high level of insulation, under floor heating and heat recovery systems as well as a novel woven wall cladding which affords protection from damage associated with wheelchair use. Knock out wall panels ensure adaptability for future tenant needs and the layout ensures that hoist facilities can be retrofitted as required.
Mark Chalmers, senior architect at Space Solutions, said: "We are proud to continue our work with Cornerstone and are pleased to have been tasked with such a rewarding project. Angus Court gives residents a home of their own, enabling them to feel part of the wider community, whilst receiving the care they need from Cornerstone.
"It was important that the development felt homely and not institutional. We hopefully succeeded in creating a warm and inviting environment which each resident can enjoy and make their own."
A communal open plan kitchen, dining and lounge area provides additional space for socialising amongst residents.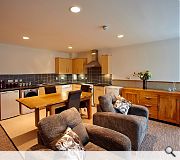 Space Solutions stress the attention to light, colour and texture in their design
Back to November 2013