UKs best modern churches shortlist announced
October 17 2013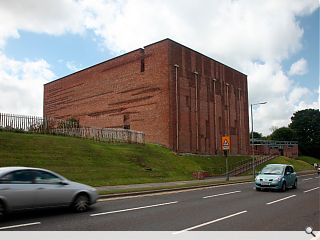 A
two dozen strong shortlist of the best modern churches
to be built in Britain since 1953 has been published by the National Churches Trust.
Amongst their number are five entrants from north of the border; ranging from St Francis Xavier RC Church, Falkirk, designed by A R Conlin from 1961right up to the present day in the form of the
RC Chapel of St Albert the Great
, designed by Simpson & Brown for the University of Edinburgh in 2012.
Brucefield Church of Scotland in Whitburn, penned by Rowand Anderson Kininmonth and Paul in 1966, St Bride's RC Church, East Kilbride, from the catalogue of Gillespie, Kidd & Coia (1964) and Kildrum Parish Church, Cumbernauld, by Reiach & Hall in 1965, round up the Scottish contingent.
These candidates were each whittled down from over 200 entries from across the country and will now go head to head with 19 others for a chance to be named best modern church.
Claire Walker, chief executive of the National Churches Trust said: "As a nation we are rightly proud of our magnificent heritage of historic churches. But there are also many exciting churches which have been built in the last 60 years designed for the changing nature of religious liturgy and practice which reflect modern architecture and design.
"The challenge of helping people catch a glimpse of heaven has always produced highly creative and imaginative architecture."
A winner will be announced by the Archbishop of Canterbury on 7 November.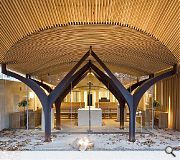 RC Chapel of St Albert the Great, photograph by C. Humphreys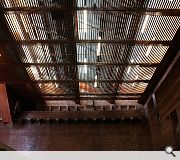 St Brides interior, photograph by Mark Chalmers
Back to October 2013