Autumn edition of Urban Realm magazine hits the streets
October 16 2013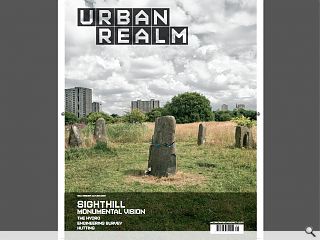 If one thing has been missing over the past five years of recession it has been the confidence to think and act big in the face of uncertainty. In the autumn edition of Urban Realm it is heartening therefore to see renewed confidence in the economy translate into some grand visions of the future, particularly in places where you would least expect it.
Nowhere is this true more than Sighthill which is now subject to one of the most ambitious master plans that Glasgow has ever seen. Whilst the present estate looks to the past with a replica stone circle the community can now look to a brighter future.
One grandiose vision which has just been built is The Hydro, a downturn defiant arena which injects some much needed pomp back into the cityscape. In this it is joined by the new Library of Birmingham, highlighting how civic bombast didn't die out with the Victorians.
In more humble fashion we take a look at the world of hutting to see how structures at the opposite end of the architectural spectrum can be every bit as powerful for their smaller audiences as the big ticket spectaculars.
We also take a look at the nitty gritty of our urban spaces with a look at how we can better utilise our existing city centre infrastructure to de-clog city centre streets (pg 40) and create a more pleasant environment for all.
Elsewhere we publish the latest in a series of reports from the engineering sector, showing how it's not just architects who're building big once more.
Hopefully these stories and others will inspire others to think big over the coming years as we make up for lost time.
To receive your copy simply contact kasia@urbanrealm.com, call 0141 356 5333
or fill in our online form
.
Back to October 2013