A77 flyover bridges installed
October 14 2013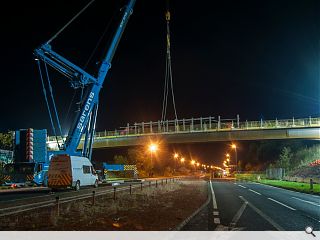 Work to install twin flyover bridges ferrying local traffic over the A77 at Bogend Toll and Symington Village has been completed by Transport Scotland.
The overnight operation involved winching the new route into place as part of a wider £10.6m improvement scheme to improve traffic flow and safety on the South Ayrshire road.
This work included the removal of all right turns onto and from the A77 via the central reservation and the introduction of new grade separated junctions between Spittalhill interchange and the Dutch House roundabout.
Direct access onto the dual carriageway for individual properties and agriculture has also been rationalised.
Transport minister Keith Brown said: "Together with the works underway on the A75 Hardgrove and A75 Dunragit Bypass, we are clearly demonstrating our efforts to improve connectivity to the South of Scotland for business, leisure and tourism, as well as directly supporting employment opportunities in the construction industry."
Each 51m span bridge weighs in at 100 tonnes and was assembled in two parts at the side of the carriageway before being lifted into position.
Contractor RJ McLeod is scheduled to complete the work by summer 2014.
Photography by David Pollock.
Back to October 2013