Fruitmarket Gallery keep redevelopment plans under wraps
October 4 2013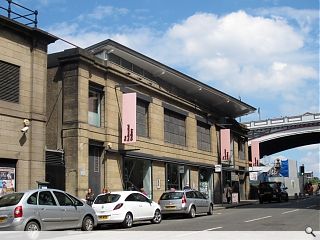 Edinburgh's
Fruitmarket Gallery is keeping a planned overhaul
under wraps pending a decision on a £2m grant application to Creative Scotland to build a Gareth Hoskins penned design.
Hoskins saw off five other shortlisted practices, including the schemes original architect Richard Murphy, to secure the commission and have prepared early plans in support of the bid.
The gallery is remaining tight lipped on precisely what it will incorporate but the difficult site is built on a truss above a live railway line of Waverley Station below, which makes any substantial intervention a tricky undertaking.
Nevertheless it is thought that these plans could entail an extensive remodeling of the Richard Murphy designed gallery, including expansion into its airspace, basement and adjoining land, to increase gallery space by as much as a third.
The plans follow comments from gallery director Fiona Bradley who described the existing space as 'restricted and limited'.
No budget has been quoted for the plan but the first scheme designs are set to be unveiled in December, whereupon a public consultation will be held.
Back to October 2013