Work begins on UK's first Whin grassland roof
|
Send to friend
September 25 2013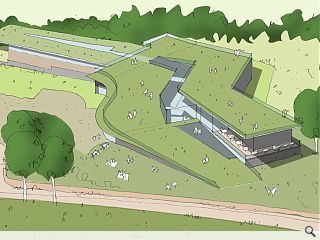 A team of landscape architects, volunteers, students and botanists have teamed up with the Northumberland National Park Authority to deliver the UK's first Whin grassland roof at a new discovery centre.
The Sill
will make use of the unique Whin vegetation found within the Park area, a mixture of grasses, wildflowers and moss, to form a green roof at the Once Brewed site at Haltwhistle.
Designed to be a microcosm of the native Northumberland landscape it will offer a range of research and experiential opportunities
Stuart Evans, The Sill project director, said: "A project to create an exterior space from natural upland plants and grasses such as Whin vegetation has never before been attempted in the UK.
"Potentially this could have much wider commercial applications in the future and as a result, we are undertaking a project working with engineers to research the structural components of the new roof."
Landscape architects Glen Kemp are spearheading the plans, working in conjunction with Jane Darbyshire and David Kendall Architects to complete the £10.5m building by 2016.
Back to September 2013