GCC commence Springburn Park Winter Gardens remediation work
August 19 2013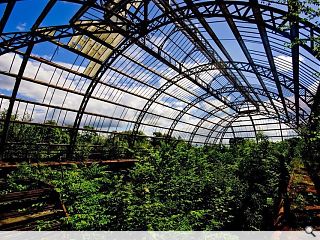 Glasgow City Council have today commenced remediation work to the A listed Springburn Park Winter Gardens with the removal of vegetation alongside the safe storage of remaining glazing and loose wrought iron elements.
This will be carried out over the next seven weeks along with work to lay a safe access route and establish a secure perimeter around the site.
In tandem with this work the Glasgow Institute of Architects, through Chris Stewart of Collective Architecture and Jonathan McQuillan of Andersen, Bell & Christie, have taken part in informal
discussions with campaigners
about setting up an architectural competition for landscaping the open shell space of the Winter Gardens and adjacent walled garden.
Such a measure is intended to reintegrate the structure into its parkland setting until such time as a viable end use and funding package for a full restoration can be agreed.
Discussions to this end are currently on-going with the expectation of opening discussions to the public during Doors Open Day on the 21 and 22 of September.
Back to August 2013