National Dance School residences plan submitted
|
Send to friend
August 16 2013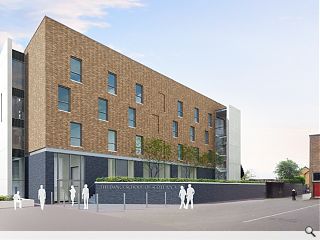 Holmes Miller has
submitted plans for the creation of new student residences
for The National Dance School of Scotland, a hub for vocational dance and musical theatre.
Situated within Knightswood Secondary, Glasgow, the build offers on site accommodation and practice facilities for students and will form a new courtyard style environment with a façade designed to sit comfortably alongside Gillespie Kidd and Coia's listed school block.
A ground floor practice room benefits from a glass lantern ceiling and raised floor height to enhance daylight with brick selected to match that of the existing school.
Designed to provide accommodation for up to 90 pupils, many of whom must travel from out with the city for practice sessions.
This will require the loss of some unused greenspace but will be offset somewhat by the incorporation of an outdoor performance space and gardens.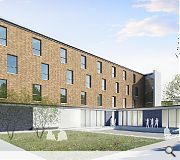 Three floors of accommodation will be stacked above a double height performance space
Back to August 2013