First images of Ailsa Craig centre released
|
Send to friend
June 6 2007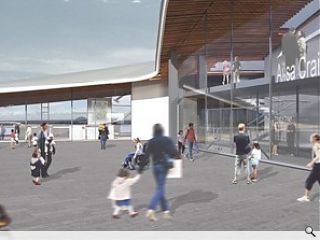 The first images of the multi - million pound Ailsa Craig Centre to be built in Girvan have been released.
The centre, designed by John McAslan, is to be built on the shoreline of the town overlooking the famous Ailsa Craig rock – a local landmark and RSPB protected site – pending a successful application for Lottery funding and under the management of Girvan Community Developments and in partnership with the RSPB.
It is hoped that the building's striking design and facilities, which will include exhibition areas, theatre spaces and cafes, will increase visitor numbers to the area and has the support of the local community.
Mr McAslan said: "We hope people will come to Girvan not just for the link to Ailsa Craig but also for the building itself…The building has been designed so that it looks like it is almost rising from the beach, like sandbanks or mounds of pebbles."
Webcams on the island will relay images of the local wildlife back to the centre, which will also include an 'interpretation centre' designed by Ralph Applebaum – the American architect responsible for the award-winning Holocaust Museum in Washington DC and the New York Museum of Natural History.
If the application for funding is successful, the building will be completed in 2010. A decision from the Big Lottery's Living Landmarks programme is expected in September.
Images courtesy of JMP Visualisation
Back to June 2007