Clydebank Leisure Centre funding agreed
June 28 2013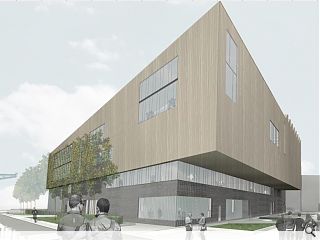 West Dunbartonshire Council has agreed to accelerate delivery of a new
leisure centre at Queen's Quay, Clydebank
, by contributing £18m toward its construction costs.
Scheduled to complete by March 2016 the new centre will replace a town centre facility, which is in process of being sold to Tesco, but which is in a deteriorating condition – forcing the council to push ahead on site as early as next April.
Plans drawn up by Kennedy Fitzgerald Architects and Buro Happold envisage a new pool hall, gym, sports courts and coffee shop on the waterfront site, dominated by a full height window looking up the Clyde.
Councillor Lawrence O'Neill, vice convener of economic development, said the deal "… gives Council officers and Tesco representatives the time and space they need to progress towards the sale of the Play Drome site.
"If the deal is successful, we will be well underway with the construction of the new leisure facility when the time comes to hand over the Play Drome site to Tesco. This proactive measure will limit the time that local residents are without a leisure centre on their doorstep, and during that time they will be able to make use of the Meadow Centre in Dumbarton which is just seven miles away."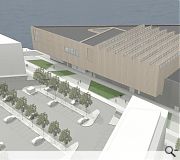 The new leisure centre will be built next to Clydebank College
Back to June 2013