Week long live-build Tiree boathouse project kicks off
June 21 2013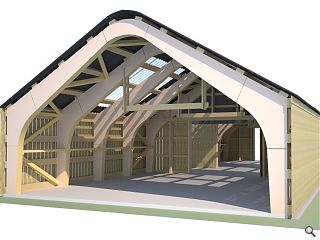 Work to deliver a
live-build boathouse on Tiree
has swung into action with the project architects, TOG Studio, arriving on site to oversee the process.
Designed for the Tiree Maritime Trust the project will be built over the course of a single week by a team of experts ranging from students of architecture and engineering to industry experts.
The scheme is being delivered in tandem with Russwood, suppliers of the Siberian larch cladding, and features a ply-portal frame has been partially pre-fabricated by MAKLab before being assembled by GalGael, Glasgow.
Marley Eternit will also be on hand to offer advice on the installation of profiled sheet cladding.
Tog Studio director, Lynne Cox, said: "Working with MAKLab has allowed us to combine high-tech CNC routing with traditional,
hands-on construction skills. This has allowed us to create a dramatic curved structure, which we imagine as being an upturned boat, in a short amount of time on site. It has been inspiring to work in the GalGael workshop and see our structure come together next to real-life boat builders."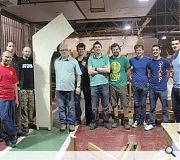 A team of specialists have assembled on the Isle of Tiree to oversee a whirlwind assembly process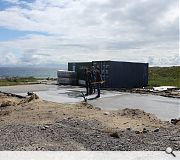 Tog delivered a temporary lighthouse on the island last year, a project which earned the practice a low cost project commendation at the SDA
Back to June 2013