Engineers commissioned to investigate reopening Glasgow Science tower
June 3 2013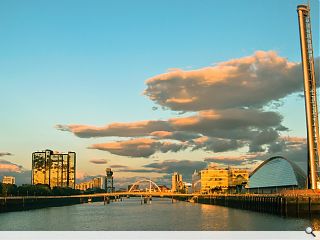 Glasgow's 127m tall science tower could once again open its doors to the public following the appointment of a team of engineers to work up designs and costs for the safe operation of the rotating tower.
Instead of being a high point for the city the tower has been laid low by a series of technical problems brought about by over heavy elevators, which sank the structure and overwhelmed its delicate ball bearing base.
Despite the installation of temporary supports the tower has remained closed since August 2010 amidst concern that the weakened structure could collapse.
Designed by Richard Horden the scheme was disowned by him in 1999 (two years prior to the project's completion) when he was removed from the project team in a row over cost overruns and delays.
Stephen Breslin, chief executive of the science centre, told BBC News: "We have settled the outstanding litigation with contractors Carillion and that is public record. There is no outstanding litigation. This means we can now concentrate on a solution.
"We have commissioned some engineers to put together a fairly detailed design and costing for reopening the tower. But I will only commit money if we have a workable solution.
"Given the tower's history, we can't afford to get it wrong again."
Photography by David Pollock
Back to June 2013