University of Glasgow builders celebrated in new book
June 3 2013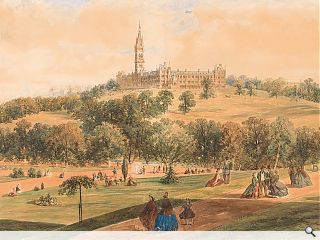 A new book has been published to celebrate the architects, craftsmen and engineers who built the University of Glasgow's Gilmorehill campus.
Building Knowledge
collates hundreds of drawings, photographs, minute books, accounts, letters and reports, including many never before published, to tell the story of how the gothic fantasy was conceived, funded and realised.
The book also delves into the 500 year history of the institution which first emerged on the High Street, documenting the role played by prominent eighteenth and nineteenth century architects such as William Adam and William Stark.
Author Nick Haynes said: "The demolition of the High Street site saw the seventeenth century Renaissance buildings lost forever. However some parts of the complex, such as the famous lion and unicorn staircase were saved and transferred to the new site, which is well documented.
"As part of the research for the book, we've been able to identify for the first time other aspects of the current university site which originate from the High Street campus.
"This includes a magnificent fireplace of 1745 and wooden panelling in the Melville Room which would have taken pride of place in the old college Forehall at the High Street. It was previously thought that this dated from the 1920's.
"We've also found documentation to the nineteenth century contractors specifying the transfer of a number of decorative items from the High Street site to the exterior of the Pearce Lodge building on the current campus. These elements date from the Cromwellian period and provide a fascinating insight into Scotland at that time."
Back to June 2013