gm+ad on start on Hope Street
May 23 2007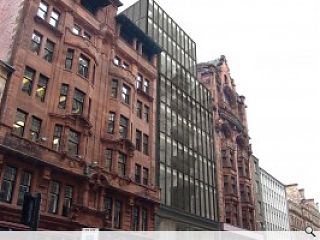 gm+ad architects have a new commercial development going on site this month on Hope Street.
The Copenhagen Building takes its name from the associations in the area with the Duke of Wellington (His horse was named Copenhagen and Hope Street was once Copenhagen Street) and is located on the western side of Hope Street, facing the Central Station Hotel.
It is bounded on the south side by Atlantic Chambers, a Grade 'A' Listed office building dating from 1899 by JJ Burnett, and on the north by Shaftsbury House, a 1960s office building, which itself is about to be redeveloped.
The building creates clear office floor pates of 7500ft2 (700m2) by amalgamating the refurbishment of a Grade 'B' Listed Building from 1899 by Robert Thomson, with a new structure in the gap between this and Burnett's Atlantic Chambers.
The entrance to the building is created in the removal of the old Daily Record Printing Hall, which currently occupies the space between the Listed Building.
An earlier project to create a nightclub in the ground and basement levels also involved preparatory works - columns and foundations, etc. for this new building over which permits construction to continue above.
Given the almost baroque nature of the existing facades, the new insertion is a carefully proportioned glass facade which steps back on the two upper floors to reveal the ornate returns of the attics level of the Listed Buildings.
Back to May 2007