Safedem recruit high-reach crane for Tayside House demolition
May 14 2013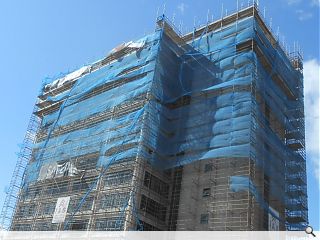 Safedem have brought to bear their latest acquisition, a concrete chewing high reach crane, to the site of Dundee's Tayside House to
speed up clearance of the 18 storey block
.
The machine is needed to remove the final 10 floors from the building as part of an
ongoing waterfront regeneration scheme
, a process which was originally scheduled to complete last December..
Barry Ward, Safedem's technical operations manager, said: "There will be an operator in the cabin and he will operate the muncher with the help of cameras at the top of the machine that will guide the mouth as it eats its way through the floors.
"We will also have people at each side of the site to ensure no one ventures on to the area so that the task can be done safely.
"This is the final stage and we hope it won't take long for the rest of the building to come down. Hopefully the task will be completed in about four weeks."
Back to May 2013