Leith Walk gap site to be plugged by new Colony housing
April 10 2013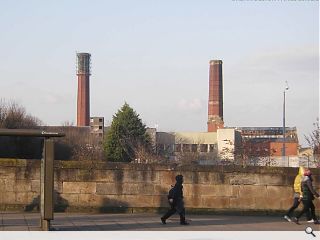 Fresh
plans have been submitted
for the development of a long dormant brownfield site in the heart of Edinburgh to create 160 new homes, a quarter of which will be affordable, by EMA Architects on behalf of the bank and administrators of collapsed property firm Frasers Hamilton (Shrubhill) Ltd.
Known as Shrubhill the scheme will be marketed to potential buyers if planning permission can be secured and comprises a B-listed former tram depot which will be retained for residential use, together with a pair of historic chimneys following a structural survey by David Narro Associates.
Occupying a linear parcel of land straddling a former railway line within the Leith conservation area and will entail introduction of new colony style/terraced family housing and a new pedestrian through route.
Particular emphasis will be placed on the quality of streetscape in the new neighbourhood with low profile kerbing and gullies used to create a space that accommodates congregation, seating and play.
At Leith Walk a new five storey 'gateway' building clad in natural stone and zinc will frame a new tree-lined route which leads toward an entrance square. Behind this will lie three storey brick fronted buildings to tie in with existing tram sheds.
In a piece for the current issue of Urban Realm magazine Malcolm Fraser said of Edinburgh's unique Colony style housing: "The Edinburgh Colonies are a magnificent model. Built by Workers' Co-ops, from about 1850, they consist of terraces of double-upper flats, accessed by forestairs from the west, over ground floor ones, accessed from the east. They are as dense as tenements but everybody has a garden; are loved, sell well today and make great communities and are, definitively, great, urban, family homes."
The latest plans follow proposals from Frasers Suites to erect in
excess of 400 apartments on the plot back in 2009
, a scheme which failed to materialise amidst the wider market downturn.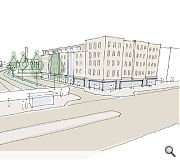 A key challenge facing designers is to appropriately address Leith Walk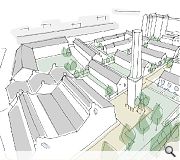 WSP will assist in the creation of a new neighbourhood by lending their landscpae expertise
Back to April 2013