RIAS Awards 2013 shortlist announced
|
Send to friend
March 25 2013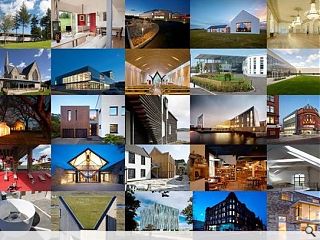 The RIAS has announced the names of 25 projects shortlisted for its 2013 awards programme,
the second to be staged under its new structure
, following an initial appraisal of entries.
A total of 75 entries were whittled down by the judging panel who will now visit each of the schemes in turn to determine which is worthy of an award - save for one ghostly entrant and a transient gallery which no longer exist.
Commenting on the shortlist RIAS secretary Neil Baxter said: "The economic climate for architecture continues to be really tough and it is a huge credit to the profession in Scotland that the remarkable work illustrated in these submissions is still being produced."
This year's judging panel comprised RIAS president elect Iain Connelly, Dr Joyce Deans, Lori, McElroy, Kathy Li of the Mackintosh School of Architecture Roger Stephenson of the RIBA.
All 25 shortlisted schemes are listed below alphabetically with the winners set to be revealed on 12 June.
Abbotsford Visitor Reception Building
, Melrose (£3.2m)
LDN Architects
"Tourist visitors now demand dedicated facilities which frequently cannot be easily incorporated within historic attractions. This is achieved very deftly and attractively in this new building."
An Cridhe
, Isle of Coll (£999,600)
Anderson Bell Christie
"The form of this building is deceptively simple and thoroughly appropriate to the island vernacular. What it delivers is of huge social value."
Assembly Rooms
, Edinburgh (£7m approx.)
LDN Architects
"The historic elegance of this important suite of performance and reception spaces has been wholly respected through restoration and adaptation, giving them a whole new lease of life and an economically positive future."
The Barony Centre
, North Ayrshire (£1.2m)
Ingenium Archial Ltd
"Without pastiche and in materials that serve as a foil to this handsome historic church, new uses and new life have been brought to the building."
The Beacon Arts Centre
, Greenock (£8.2m approx.)
LDN Architects
"This building seems wholly appropriate for its superb waterside setting. It is elegantly contemporary in its materials and form, both open and welcoming."
The Chapel of Saint Albert the Great
, Edinburgh
Simpson & Brown Architects
"This building is markedly different from the historic property to which it is attached. However this is a supremely elegant and attractive solution, a place of worship that invites visitors in."
Dunfermline High School
, Dunfermline
Fife Council Property Services
"The sheer scale of this major new secondary school demanded a simple, navigable plan and separation of facilities. This is well achieved with materials and art enhancing the daily experience of its users."
The Dutch Barn
, Insch, Aberdeenshire (£322k)
Acanthus Architects df
"There can be few more prosaic structures than the original, utilitarian, steel barn which has been transformed into this comfortable and attractive new home. "
Forth Valley College of Further and Higher Education
– Stirling Campus (£15.6m)
Reiach & Hall
"This is a deceptively simple contemporary building within an expansive landscape setting, incorporating workshops, studios, classrooms, a library and social spaces with elegant understatement. "
The Ghost of Water Row
(temporary structure, all work and material given in kind)
Edo Architecture
"This project was architecture as installation art. Commemorating the late Sculptor, George Wyllie Hon FRIAS, it was a powerful evocation of local history while also signalling a creative future."
The Glad Cafe
, Glasgow
ATW Architects (in association with Eggmachine)
"No question that you'd want to have coffee and maybe even a cake here. Ingenious, subtle, sustainable - and fun! This is real architecture on a budget, creating a new community asset."
House
, Lenzie
cameronwebster
"This reworking of a 1960s house creates a new relationship with the building's site, with contemporary, yet timeless, materials and form."
Linsiadar (4)
, Isle of Lewis
studio KAP
"Built out of a former croft, this new home has a rugged, almost natural, presence within the island landscape. Drawing upon history, this building also very positively signals its newness."
Malin House
, Dunstaffnage, by Dunbeg
ADF Architects
"This is a large building which incorporates laboratory, administration and social spaces very elegantly. The external form expresses this brief in materials which fit well within its dramatic and beautiful setting."
Mareel
, Lerwick
Gareth Hoskins Architects Ltd (Executive Architect PJP Architects, Lerwick)
"Set on an historic waterfront site, this is an important cultural facility. This building embraces theatre, cinema and performance, reflecting and encouraging creativity."
The Olympia
, Glasgow (£5.1m – excluding public realm)
Page\Park Architects
"The Olympia Theatre, one of the great landmarks of Glasgow's East End, long a sad ruin, has been brought back into the life of the community. This is an important piece of regeneration."
Phoenix Flowers
, Glasgow (£1m)
7N Architects
"The underbelly of the M8 transformed into a fantastical landscape that makes you smile. This is an ingenious way of making difficult public realm safer and more accessible."
Rosslyn Chapel Conservation & Visitors Centre
, Roslin
Page\Park Architects
"One of Scotland's most famous buildings has been sensitively restored with meticulous care. The new visitors centre with interpretation and a café enhances the welcome."
Sugarhouse Close
, Edinburgh
Oberlanders Architects LLP
"This is a very large development on a difficult site, combining re-used historic buildings and new-build with ingenuity. Materials, landscaping and scale are all appropriate to the weave of the Old Town."
Thomas Telford Parliamentary Church
, Berneray, North Uist (£300k)
Patience & Highmore
"This simplest and plainest of stone built structures encloses a marvellous new home. The layout of the interior and the way natural light is brought into every area is ingenious."
The Transient Gallery
(temporary structure, £2,800)
GRAStudio
"Originally designed for Venice and since re-used in Scotland, this is an intriguing, lightweight exhibition structure which draws visitors in."
The Turf House
, Isle of Skye (£132k)
Rural Design
"The new Skye vernacular, timber-clad homes in the landscape, is here taken to a new level. This is architecture of a relatively modest scale, but significant ambition."
University of Aberdeen New Library
, Aberdeen (£30.63m)
Schmidt Hammer Lassen Architects
"This is a contemporary international structure within one of Scotland's most important historic settings. Its internal arrangement cleverly challenges preconceived notions of "the library"."
WASPS South Block
, Glasgow
NORD
"Adapting a behemoth Victorian city block into new studios, gallery space and visitor facilities is crisply and ingeniously achieved. An intelligent and appropriate facility within a very creative city."
Wormit Extension
, Fife
WT Architecture
"This is a simple and ingenious reworking of a typical Victorian stone semi. The reconfigured interior is a huge improvement in circulation, configuration of the rooms and response to the views it commands."
Back to March 2013