Balornock open review process concludes
|
Send to friend
February 13 2013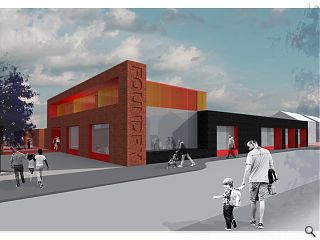 An open review of the ongoing transformation of Balornock, north Glasgow, has taken place with an independent panel descending on the community to appraise progress thus far and inform the development of future phasing.
Gathered at the behest of the Home Group a team of architects, landscape designers and urbanists poured over an Anderson Bell Christie masterplan for the area, as well as proposals for a new community centre designed by Collective Architecture, during a tour of the neighbourhood and round table discussion with locals.
Construction work is currently underway on phase three of a seven phase redevelopment of the area with Anderson Bell Christie in process of reworking an existing masterplan for phase four onwards to tie it in with existing completions and the planned Lottery funded community centre.
Still at a very early stage, it won't be going to planning for a number of months, the team are keen to draw us much feedback as possible on the scheme whilst the design is still malleable. Architect Stuart Russell said: "One consideration we had was how we make pedestrian paths safe through the route, the other consideration was roads and access and how these relate to phase three.
"We've had a look at how we think future phases will bring, predominantly how they will relate to phase four and where the community centre sits, we've looked at opening up pathways, new greenspace and a courtyard."
Commenting on the community centre design, developed for Balornock East Community Association, Collective Architecture's Justin McNeil said: "During one consultation we asked people what they wanted in the external space and they responded with lighting, multi pitch surface, public seating landscaping and a sensory garden.
"Another idea we had was letting people create their own personalised bricks and we managed to get Ibstock to fire clay bricks and let the community come along and try their own forms and shapes."
Dhruv Adam Sookhoo, head of design enterprise and development at Home Group, said: "We hope this is the beginning of a much stronger collaboration between Collective and their vision and our own. We want to formalise the way both Anderson Bell Christie and Collective work together."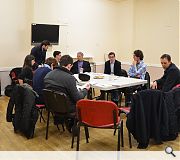 Discussons took place within the existing community hub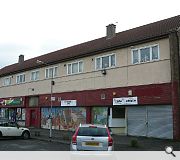 Residents are unhappy with a lack of light and narrow corridors in their existing community hall and have spoken out against stacking homes above shops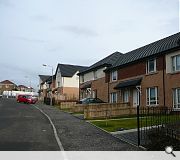 Though receptive to a bold solution for the community centre locals have resisted innovation in housing design
Back to February 2013