Commonwealth Games Athletes Village builds up a head of steam
December 11 2012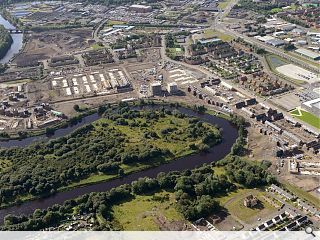 Glasgow's Commonwealth Games Athletes Village has passed another milestone with completion of a purpose built energy centre, designed by RMJM.
The structure serves as hub for a sprawling district heating network which will deliver hot water to the 700 homes and a 120 bed care home currently taking shape on the east end site.
Delivered by City Legacy on behalf of Glasgow City Council the estate is being delivered with a focus on using sustainable building materials rated 'excellent' under the Code for Sustainable Homes.
Calum Murray, spokesperson for City Legacy said: "As the cost of energy continues to soar, this scheme is a fantastic example of how advances in technology and partner expertise can have clear environmental and financial benefits for residents."
"We're delighted that residents of the Athletes' Village will reap the benefits of cheaper energy and reduced carbon emissions. The houses are packed with energy efficient features like solar panels and the superior insulation which will slash the cost of their energy bills."
Councillor Archie Graham, executive member for the Commonwealth Games at Glasgow City Council, added: "One of the main legacies that the Glasgow 2014 Commonwealth Games will leave is a greener city -a place where examples of sustainable living can be found everywhere.
"The energy centre at the Athletes' Village will help us achieve two key signs of our green legacy: reducing climate emissions by reducing waste, and lowering carbon emissions through sustainable living and development."
Back to December 2012