Airdrie Town Hall refurbished for 100th anniversary
|
Send to friend
October 25 2012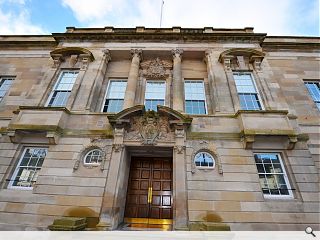 A £3.6m refurbishment of Airdrie Town Hall has been completed by Austin Smith Lord, just in time for the civic seats centenary.
The comprehensive upgrade has allowed creation of a new café, gallery, toilets and lift opening up access to lesser hall as well as the installation of new windows, re-roofing and remodeling work to the entrance.
These are contained within two separate extensions on the eastern and southern elevations, both of which are clad in polished ashlar stone where they connect with the existing building.
Works were funded by North Lanarkshire Council, Heritage Lottery Fund, Creative Scotland, Town Centre Regeneration Fund, BIFFA, Land Trust and private donations.
Airdrie Town hall first opened its doors to the public on 16 October 1912 and was designed by local architect John Thomson on a budget of just £10k bequeathed by local businessman Sir John Wilson.
Back to October 2012