Northumberlandia landscape figurine unveiled
September 3 2012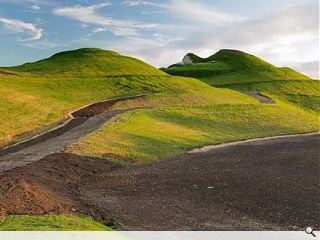 A Charles Jencks designed piece of public art, built into the Northumberland landscape, has been officially unveiled.
Northumberlandia
reproduces the form of a naked woman through carefully moulded mounds of earth, an arresting spectacle that is only fully apparent from the air.
Under construction for the past two years its creator claim they have fashioned the largest landscape replica of the female form anywhere in the world and with her assets standing at an impressive 34m tall it is easy to see why.
Sculpted from over 1,5m tonnes of layered rock, stone, clay and soil the £3m figurine has been made possible by the owners of England's largest open cast mine (Banks Group and Blagdon Estate), who were obliged to restore the landscape at surplus workings.
By products from that mining operation form the raw materials for the piece, which is intended to become a local tourist attraction.
Doubling as a nature reserve the folly will also sport a number of winding paths for visitors to take in views of the surrounding countryside.
Northumberlandia will open to the public from noon on Wednesday 5 September.
Back to September 2012