National Museums Scotland commission Granton archive expansion
August 23 2012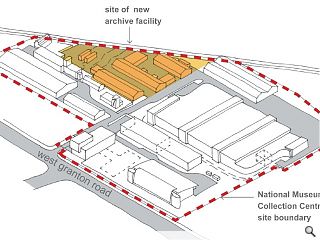 National Museums Scotland have commissioned an expansion of their collections centre at Granton as part of a relocation from its existing facility at Port Edgar.
The move will entail construction of purpose built accommodation for the collection as part of a wider masterplan for the area.
Designed by Gareth Hoskins Architects with Turner & Townsend acting as cost consultants the project will entail investigation of a number of masterplan options.
Chris Coleman-Smith, Director, Gareth Hoskins Architects, said: "We are delighted to have been appointed as architects for the new storage facility at the National Museums Collection Centre, Granton. National Museums Scotland has a world class collection which is rich and varied.
"This project is a great opportunity for Gareth Hoskins Architects to be involved in the delivery of a building that will provide appropriate conditions for the preservation of the collections for future generations."
Turner & Townsend associate director Jane Eckersall added: "As a publicly funded project granted £8.7 million by the Scottish Government, it is important to keep on budget.
"At Turner & Townsend we will be challenging the design process throughout the duration of the project in order to ensure that both the Collections Centre Masterplan and final design solution for the new storage facility in Granton represent value for money, as well as fulfilling National Museums Scotland's requirements."
Back to August 2012