Keppie and team win West Lothian Schools PPP bid
January 29 2007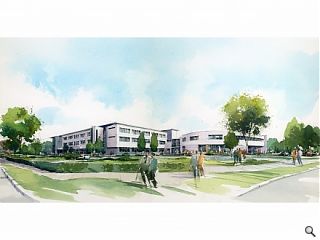 Keppie Design celebrates as HDM School Solutions Ltd has been announced as preferred bidder for the £60m Public Private Partnership contract for West Lothian Council.
Keppie Design's partners within HDM School Solutions Ltd are Dawn Construction, Pacific Partners and Hochtief.
As the consortium's architect and lead consultant Keppie provided the designs for two new secondary schools to replace the existing Armadale Academy and Deans Community High School in Livingston. Both existing schools will be demolished. The two new schools will replace all existing facilities with an innovative mix of new teaching areas, social spaces and sports halls.
Other planned improvements for the two schools include a range of new facilities, including: additional classrooms, a four-court games hall, dance studio, fitness room, swimming pool, and a full size all-weather synthetic pitch.
Both school designs are based around the concept of social integration through the positioning of the teaching spaces around a centralised courtyard. At Armadale this provides options for sheltered external play and teaching spaces that are not as exposed to the wind and driving rain that the site occasionally suffers from. At Deans, the courtyard is part of an extended sequence of interrelated social spaces forming the heart of the school.
At the Deans School community involvement that underpins the design concept, by placing the community orientated spaces, the various community groups that will utilise the building can do so safely and securely and during the school day.
Keppie Design Director David Ross commented on the successful outcome, "I believe the quality and robustness of the design solutions reflects the high level of collaboration and dialogue between the consortium and the council representatives. We are naturally delighted to be progressing to the next stage of the schools' development."
Keppie also provided landscape and town planning services for the project bid. Work is expected to start in the Summer of 2007 with works to be completed by August 2009.
Back to January 2007