Holmes on hospital site
January 23 2007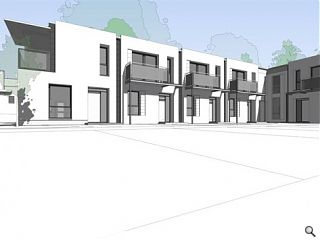 Holmes Partnership, are designing 200 new homes on the site of Hawkhead Hospital in Renfrewshire. The original hospital was designed in 1934 by Thomas Tait (1882 – 1954), one of the most important and prolific Scottish architects of the first half of the 20th century. Originally known as the Paisley Infectious Diseases Hospital, Hawkhead Hospital will be transformed into a unique and highly desirable residential estate.
Holmes prepared the masterplan for the redevelopment of the site for client, Kier Homes, who are acting in partnership with the Burrell Company. While Elder and Cannon Architects and the Burrell Company is responsible for the refurbishment of the existing buildings, Holmes is designing and delivering new build houses and apartments that will compliment the original 1930s designs. The design incorporates a strong sustainability agenda with the objective of creating a vibrant, mixed community incorporating a high percentage of flats, terraced houses and generous landscaped public spaces.
The new build elements of the project will have flat roofed and terraced structures arranged primarily in streets around courtyards and squares. Extensive consultation with Renfrewshire Council Planning and Historic Scotland Scotland took place before planning permission was submitted.A decision on the application is expected in February 2007.
Back to January 2007