GSA student wins Holmes Miller Award
June 20 2012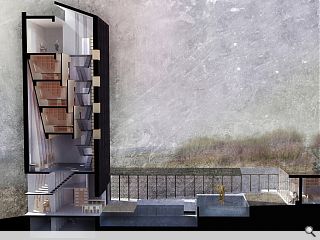 Arseni Timofejev, a 3rd year student from the Mackintosh School of Architecture, has been named as the winner of this year's Holmes Miller award.
Timofejev will pick up a cheque for £500 this October for a project titled 'The Writing Tower', a black monolith intended as a new addition to the sculpture garden at Little Sparta.
The writers retreat provides a series of light filled spaces within which its occupants can engross themselves in their work with key features including a recital space, wall of books and reading salon.
Judge and Holmes Miller director Sandy McMillan said: "The judges were very impressed by the quality of work by year 3rd students in both schools of architecture and we had difficulty in choosing a final winner. In the end, we felt that Arseni's design showed the greatest maturity of approach and clarity of expression."
The annual Holmes Miller award is managed by the Glasgow Institute of Architects and is open to all 3rd year architecture students at Strathclyde and the Mackintosh.
Back to June 2012