Construction apprentice numbers stabilise following four year decline
May 21 2012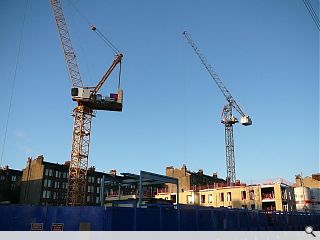 The number of apprentice construction workers in Scotland has stabilised for the first time since the recession hit with more apprentices registered last year than in 2010, according to the Scottish Building Apprenticeship and Training Council.
Figures published by the industry body show that between 2007 and 2010 the number of monthly apprentices registered by the agency collapsed from 2,758 to 1,325.
That precipitous decline had abated by 2011 however which registered a modest increase of 53 apprenticeships versus a year earlier.
Michael Levack, Scottish Building Federation Chief Executive and Employers' Secretary for SBATC, said: "Despite the ravages of the economic downturn, the apprenticeship opportunities offered by the construction sector remain crucial – particularly at a time when the country is facing record levels of youth unemployment. And with business failures at a record level, the proportion of employers within the construction industry engaging apprentices has held up remarkably well.
"As apprentice numbers stabilise, there's clear evidence that construction employers are fully committed to offering new opportunities and attracting new blood into the industry. We are ambitious about the future and I look forward to a time when we can start to rebuild apprentice numbers back to the levels we enjoyed some five years ago."
Back to May 2012