Borders General Hospital care unit gets underway
May 7 2012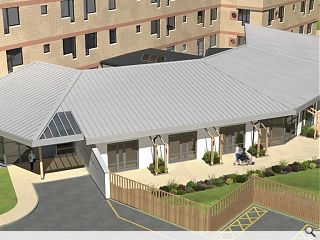 Construction work has begun on an in-patient specialist palliative care unit at Borders General Hospital, designed by Aitken Turnbull Architects.
The Margaret Kerr Unit will offer eight en-suite bedrooms each with direct access to a landscaped garden area.
Matt Hall, Senior Estates Project Manager for NHS Borders said, "The contract to build the new unit was awarded to BAM Construction, the Principal Supply Chain Partner. They have been onsite carrying out a period of enabling work, and we are very pleased that the construction of the unit can now begin".
Ken Irving, Regional Director, BAM Construction added, "Being brought up in the Borders I am delighted to acknowledge the foresight of NHS Borders in building the first specialist care unit in the area. The support for the unit is outstanding and we are pleased to be involved".
NHS Borders will operate the Unit and a range of charities and individuals, via an ongoing fundraising appeal, will meet its £4.1m construction costs.
It is expected to open in the first quarter of 2013.
Back to May 2012