Local election candidates urged to prioritise construction
April 16 2012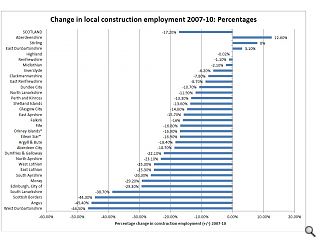 The Scottish Building Federation, the construction industry trade body, is calling on all candidates in next month's local elections to prioritise capital expenditure on new buildings.
To back up their call to action the trade body has published a new report which it says show that more than £300 is added to the local economy for every £100 invested in capital projects since the last election in 2007.
The report illustrates that between 2007 and 2010 the industry shed 41,000 jobs whilst public investment in housing saw a ratio of more than 450 people to each new home completed in Aberdeen City, East Dunbartonshire and Falkirk.
Commenting on the report's findings on housing, Mr. Levack said: "Used wisely and prioritised into key areas such as affordable housing, local authority capital expenditure can generate significant wider benefits to the local economy.
"There is a wide variance in the performance of individual councils in delivering the right number of affordable homes to meet current and future demand and there is always scope for every local authority to do more. It is particularly concerning that Falkirk Council has delivered such a low number of publicly funded new homes per head of population when the numbers on its housing waiting list are comparatively so high."
This year's local government elections will be held on May 3.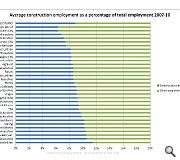 Construction employment varies from around 6% in Edinburgh to around 11% in Midlothian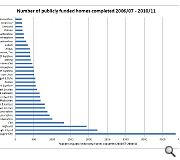 Glasgow dominates the public housing sector
Back to April 2012