Shopping centre construction hits lowest rate since 1960s
April 3 2012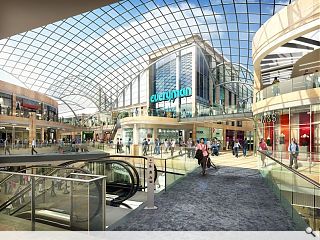 The rate of UK shopping mall construction is projected to slow in 2012 to the lowest level since the sector took off in the early 1960's, according to property consultants Cushman & Wakefield.
Just 31,500sq/m of space is predicted to be completed this year; including just one new mall, the 15,500sq/m Swan Shopping Centre in Yardley.
This compares to a relatively healthy 276,000sq/ft of construction seen in 2011 – although this figure was skewed by the giant 176,500sq/ft Westfield Stratford City.
That picture should improve in 2013 with nearly 170,000sq/m of new space coming onto the market, principally through Trinity Leeds (75,900sq/ft), New Square in West Bromwich (43,900sq/m) and the Whiteley Shopping Centre (27,900sq/m).
In their report Cushman & Wakefield noted: "Development is expected to continue at a restrained pace for the foreseeable future, which will impact on retailers' choice. However, while selected retailers are expanding, on the whole occupiers remain cautious against a backdrop of sluggish retail sales and low consumer confidence. Demand is likely to remain selective, with interest focused on regionally dominant shopping centres; further polarization between prime and secondary schemes is expected."
Scotland has one of the highest densities of Gross Lettable Area in the UK, currently running at 300sq/m per 1,000 inhabitants, behind the north east with 360sq/m of space but well ahead of the south west, east midlands and Wales where the equivalent figure is just 200sq/m
Top 5 UK malls by floorspace
Gateshead MetroCentre 189,400sq/m 1986
London Westfield Stratford City 176,500sq/m 2011
Manchester Trafford Centre 168,100sq/m 1998
London Westfield London 161,500sq/m 2008
Liverpool Liverpool ONE 151,400sq/m 2008
Back to April 2012