Urban Realm issue nine, out now
April 2 2012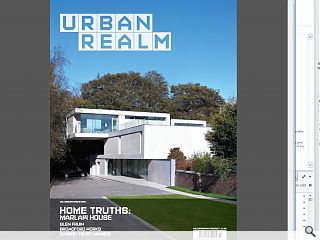 The Spring edition of Urban Realm has hit the streets, a bumper issue packed with, domes, steeples, chimneys, bunkers, gardens and houses.
This issue has something of an exotic flavour as we take a look at a series of Gurdwara's which are soon to make their eclectic presence felt on the Glaswegian skyline. In tandem with this we also take a look at McAslan & Partners plans for a new Kenyan cathedral.
Elsewhere Mark Chalmers penetrates the veil of secrecy surrounding an MoD torpedo testing facility at Glen Fruin, returning with some choice snaps of the dramatic concrete bunker at its heart.
We also take a look at Broadford Works, the largest collection of A listed buildings in Scotland currently categorised as 'at risk'. With grand plans in place to transform the collection of nineteenth century chimneys and mills into a 21st century public space we take a look at what remains.
You can sign up for a subscription to Urban Realm
here
.
Back to April 2012