Construction sector hit by lack of confidence
February 20 2012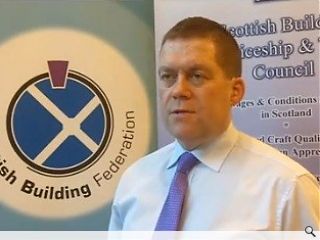 A further drop in confidence has greeted the continued challenging nature of the construction sector, according to a survey of employers published by the Scottish Building Federation.
The quarterly survey shows confidence has plumbed new depths at a negative rating of minus 28 points, a six point drop on the equivalent figure last year.
This reflects pessimism on the part of employers as to the robustness of everything from employment to housebuilding and maintenance.
Burrowing into the headline stats two thirds of building firm's project a decline in publicly funded construction, with an even greater majority, nine in ten respondents, fearing further contraction of the private sector.
The housebuilding sector fares particularly badly with 85% of respondents predicting stagnation or further decline – even though annual completions are currently running at their lowest level since 1997.
Employment prospects have fared accordingly with official statistics show that 30,000 construction jobs have been lost in Scotland in the 12 months to September 2011.
SBF chief executive Michael Levack said: "Over the coming months, I hope the industry can work constructively with government at all levels to start rebuilding confidence that has been shattered by the economic downturn.
"An excellent place to start would be to start dismantling the huge unnecessary bureaucracy around procurement and planning that has stifled our industry for far too long."
Back to February 2012