Haddington's John Gray Centre nears completion
January 30 2012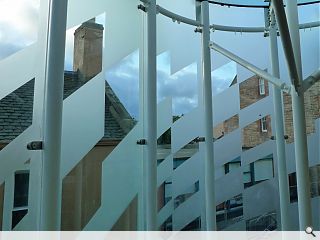 Work to complete a new museum and library project in the heart of Haddington is nearing completion with the reveal of a curved glass atrium incorporating a glass artwork.
The dramatic £3.7m intervention signifies the transformation of adjacent Grade B and C listed properties by architects Gray Marshall and Associates and structural engineer David Narro.
Though construction work is now nearly finished the building will be locked down throughout the month of February whilst exhibits are carefully manoeuvred into their new home.
Once complete the facility will house a library, history centre, museum, archives and exhibition space. It follows close on the heels of a redevelopment of the towns
Courier Building
by Oliver Chapman.
Members of the public will be able to see the new facility for themselves in March.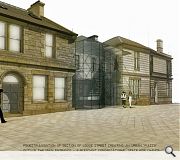 An urban 'piazza' will be created outside the Lodge Street main entrance
Back to January 2012